POCKET DOOR TRIM KIT – OVERVIEW
The Hot Dipped Galvanized P-Series Pocket Door Trim Kit is used to trim out Pocket Door openings. The purpose of the P-Series Pocket Door Trim Kit is to make Pocket Door openings consistent with other Timely Frames on the project.
Our P-Series frames are made using 18 Gauge GalXC™ Hot Dipped Galvanized. This new GalXC™ material is now standard for all Timely door frames raising the quality and performance properties to the highest level at an exceptional value. GalXC™ provides superior corrosion resistance in the harshest environments while balancing outstanding surface, gauge, and shape quality. GalXC™ is easier to specify, and can be installed in any environment.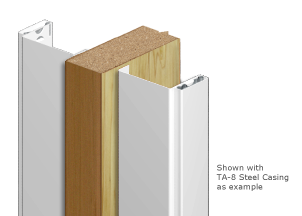 Finishing options include 2 standard colors, 4 premium colors,
30 pre-matched custom colors, project matched custom colors or primed for field painting. Galvanizing is available for all painted finishes and is REQUIRED in areas subject to high humidity, corrosive environment or exterior installations.
Fire ratings are not available with P-Series Pocket Door Trim Kits.
Mullions are not available for P-Series Pocket Door Trim Kits.
P-Series (18 gauge)
Use to trim out pocket doors so they have the same appearance as other frames for the project. Minimum Jamb Depth – 4" Maximum Jamb Depth – 13" Maximum Door Weight – N/A (For use with 1 3/8" or 1 3/4" Doors. Please refer to Pocket Door hardware specifications (supplied by others) for maximum Door weight.)