ADJUSTABLE KERFED FRAME – OVERVIEW
The Hot Dipped Galvanized and primed steel AK-Series Adjustable Kerfed is designed specifically for the Residential Market where Weatherstrip, Thresholds, and Pre-Hanging are common requirements. AK-Series frames are also the solution for House to Garage openings where Fire Ratings and Security are are essential.
Our AK-Series frames are made using 20 Gauge GalXC™ Hot Dipped Galvanized. This new GalXC™ material is
now standard for all Timely door frames raising the quality and performance properties to the highest level at an exceptional value. GalXC™ provides superior corrosion resistance in the harshest environments while balancing outstanding surface, gauge, and shape quality. GalXC™ is easier to specify, and can be installed in any environment.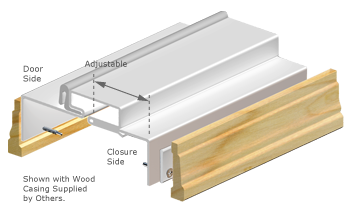 Finishing options are restricted to High Definition
White primer.
Fire ratings up to 90 minutes are available.
Mullions are not available for AK-Series frames.
AK-Series (20 gauge)
Use for interior openings with uneven or odd sized walls requiring non-stock wall size. Adjustable jamb thickness makes this frame ideal for remodel projects.

Minimum Jamb Depth – 4 1/2", using six different closure pieces.
Maximum Jamb Depth – 10 1/2", using six different closure pieces.
Maximum Door Weight – AK-Series frame accommodates a 1 3/4" door weighing up to 250 lbs.