KERFED FRAME – OVERVIEW
The prefinished steel CK-Series Kerfed Frame is a great option for any opening requiring a Smoke Seal, Weatherstrip or STC rating. The CK-Series frames are the ideal solution for the Hotel/Motel market, where creating a quiet stress free environment for travelers is of the utmost importance.
Our CK-Series  frames are made using 18 Gauge GalXC™ Hot Dipped Galvanized. This new GalXC™ material is now standard for all Timely door frames raising the quality and performance properties to the highest level at an exceptional value. GalXC™ provides superior corrosion resistance in the harshest environments while balancing outstanding surface, gauge, and shape quality. GalXC™ is easier to specify, and can be installed in any environment.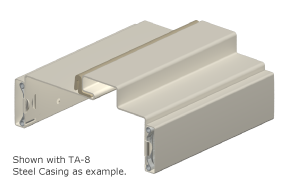 Finishing options include 2 standard colors, 4 premium colors, 30 pre-matched custom colors, project matched custom colors or primed for field painting. Galvanizing is available for all painted finishes and is REQUIRED in areas subject to high humidity, corrosive environment or exterior installations.
Fire ratings up to 90 minutes are available.
Mullions are not available for CK-Series frames
Our CK-Series frames will accommodate a 1 3/4" door weighing up to 500 lbs.
Our TA-46 Weatherstrip is available in 2 colors and can be Factory installed to reduce job site labor cost.
CK-Series (18 gauge, electro-galvanized, Factory Prefinished)
Use for interior and exterior openings requiring a seal against smoke, sound, weather, and light.  Kerfed stop with factory installed seal.

Minimum Jamb Depth – 4"
Maximum Jamb Depth – 8"
Maximum Door Weight –

CK-Series

Kerfed Frames will accommodate a 1 3/4" door weighing up to 500 lbs.