ADJUSTABLE FRAME – OVERVIEW
The prefinished steel A-Series Adjustable Frame is the perfect companion for the S-Series Standard Frame and C-Series Standard Frame. Use A-Series frame to prevent job site problems resulting from walls of varying wall thickness or non-standard Jamb depth. A-Series frames are also the solution where pre-hung assemblies are required.
Our A-Series frames are made using 18 Gauge GalXC™ Hot Dipped Galvanized. This new GalXC™ material is now standard for all Timely door frames raising the quality and performance properties to the highest level at an exceptional value. GalXC™ provides superior corrosion resistance in the harshest environments while balancing outstanding surface, gauge, and shape quality. GalXC™ is easier to specify, and can be installed in any environment.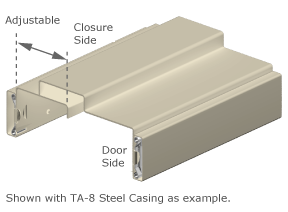 Finishing options include 2 standard colors, 4 premium colors, a selection of custom RAL Powder Coat colors or primed for field painting. A minimum order of 25 Frames is required for custom RAL Powder Coat colors.
Fire ratings up to 90 minutes are available for non-glazed openings, and up to 45 minutes for glazed openings.
Mullions are not available for A-Series frames.
A-Series (18 Gauge)
Use for interior openings with uneven or odd sized walls requiring non-stock wall size. Adjustable jamb thickness makes this frame ideal for remodel projects.

Minimum Jamb Depth – 3 3/4″
Maximum Jamb Depth – 9 1/8″
Maximum Door Weight – A-Series Adjustable Frames will accommodate a 1 3/4″ door weighing up to 500 lbs.